Blue Ribbon Announcement from Dr. Dolloff
Ryan Gleason
Tuesday, October 02, 2018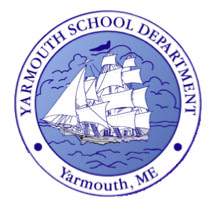 Yarmouth Schools Empowering students
October 1, 2018
Good afternoon:
I am pleased to announce that, earlier today, the U.S. Department of Education informed us that Yarmouth Elementary School will be recognized as a National Blue Ribbon School for 2018.
The National Blue Ribbon Schools Program recognizes public and private elementary, middle, and high schools in two separate categories: (1) schools where students achieve very high learning standards or (2) schools where students are making notable improvements in closing the achievement gap. Yarmouth Elementary School is being recognized for exemplary high achievement under the first of these two categories.
This is a tremendous achievement for our students and staff. Recognition such as this is earned when motivated and determined students work toward their goals with talented and dedicated staff, supported by engaged parents and a committed community. We are fortunate to have all of those components here in Yarmouth, and every student, parent, teacher, and community member should feel a sense of pride in this outstanding school-wide achievement.
Principal Ryan Gleason and representatives of Y.E.S. will travel to Washington, DC in November for the annual recognition ceremony where Y.E.S. will be presented with a National Blue Ribbon School plaque and flag as symbols of its achievements.
Additional information about the Blue Ribbon Schools program may be found at https://nationalblueribbonschools.ed.gov/. You may also view U.S. Education Secretary Devos' announcement of this year's Blue Ribbon Schools – look for Y.E.S. about 7 and a half minutes into the slideshow.
School profiles of all 2018 National Blue Ribbon Schools can also be found at https://nationalblueribbonschools.ed.gov/awardwinners.
Congratulations to Principal Gleason, the entire Yarmouth Elementary School staff, and the many students who have attended Y.E.S. over the years!
Sincerely,
Andrew Dolloff, Ph.D.
Superintendent of Schools