YES September 2019 Newsletter
Ryan Gleason
Sunday, September 08, 2019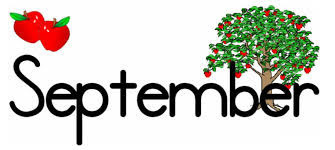 Dear YES Families,
What a great start to the school year! It has been a very successful first week of school here at YES. Students have learned new routines and settled in quite nicely. Thank you for sending your children to us so prepared and ready for the start of a new school year. The positive energy and spirit in the building have been fantastic!
The beginning of a new school year is always a busy time and 2019-20 is no exception. We have several upcoming dates, events and important information that you will want to have on your calendar.
SEPTEMBER DATES/EVENTS
Thursday, September 12
Grade 2 Parent Open House 6:00 - 6:45 p.m.
The program for this evening will begin in the cafeteria at 6:00 p.m. where there will be a brief presentation before moving on to student classrooms. In addition to our second-grade teachers, there will also be an opportunity to meet our unified arts team.
Week of September 16- 20:
NWEA MAP Testing for Grade 2
NWEA (Northwest Evaluation Association) is a global not-for-profit educational services organization. NWEA partners with over 3,500 educational organizations worldwide to provide research-based adaptive assessments, professional development, and research services.
NWEA's assessments are called Measures of Academic Progress (MAP). When taking these computerized adaptive tests, the difficulty of each question is based on how well a student answers all the previous questions. As the student answers correctly, questions become more difficult. If the student answers incorrectly, the questions become easier. In an optimal test, a student answers approximately half the items correctly and half incorrectly. The final score is an estimate of the student's achievement level.
MAP assessments are used to measure your student's progress or growth in school. You may have a chart in your home on which you mark your child's height at certain times, such as on his or her birthday. This is a growth chart. It shows how much he or she has grown from one year to the next. MAP assessments do the same sort of thing, except they measure your child's progress by the RIT scale (Rasch unit). The RIT scale is an equal-interval scale much like feet and inches on a yardstick. It is used to chart your child's academic growth from year to year.
MAP tests are important to teachers because they keep track of progress and growth in basic skills. They let teachers know where a student's strengths are and if help is needed in any specific areas. Teachers use this information to help them guide instruction in the classroom.
At Yarmouth Elementary School all students take the MAP assessment twice a year. This year the first assessment will be given in September and the second in January. Students are assessed in reading and math. Each assessment lasts approximately one hour and are given on two separate days in the morning.
Our second-grade students take the MPG (MAP for Primary Grades). Grade three and four students take a different MAP assessment designed for students in upper elementary school.
After all students have been tested copies of their results will be mailed home to you along with a letter that helps to explain what these results tell us about areas of instruction and growth. You will receive those results in early October prior to parent-teacher fall conferences.
Monday, September 16
4th Grade Parent Band Night 6:00 p.m.
This informational meeting is for the parents of fourth-grade students who are interested in band this year. Mr. Brad Ciechomski, our band instructor, will share details on the program and answer questions that you may have. This will be held in the YES cafeteria.
Wednesday, September 18
Grades 3 and 4 Parent Open House 6:00 - 6:30 p.m
For this event, please go directly to your child's classroom at 6:00 p.m. where their teacher will provide an informational presentation.
Thursday, September 19
K- 4 PTO Meeting 7:00 p.m.- YES Library
The Yarmouth K-4 PTO provides support to our schools that truly enhances the educational experience for our students. They provide funding for the majority of the field work that our learners participate in throughout the school year. Additionally, they support our annual field day and so many other projects that have become part of our programming for students.
Please consider joining the PTO for this first meeting and learn about all the great work going on and how you can contribute. The PTO meets twice a month at YES and you are always invited to attend. Here is a message from this year's co-presidents :
If you'd like some spirit wear to support your favorite Yarmouth team, you can order until Sept 30 at https://www.pandpscreenprinting.com/yarmouth.
If you'd like to work with us, please fill out our 2-minute volunteer survey to indicate your interests. We'd love to work with you!
Help earn money for your school through Box Tops! Your student can put the labels in the Box Tops collection box in the office. Heads up that you can still clip boxes for now, but Box Tops is going digital! All you have to do is download the free app and scan your store receipt within two weeks of purchase. When selecting the school to earn Box Tops points, please select Yarmouth Elementary School; money earned will go to the PTO. Traditional Box Tops will still be honored until they expire. For the rest of 2019, you can earn double through traditional clipping and scanning your receipt.
Please contact Christy Hayashida and Jessica Raimy at yarmouthpto04096@gmail.com for any reason. Thank you for all your support!
Friday, September 20
Grade 4 Instrumental Pick-up- 3:45 p.m
Mr. Ciechomski will be distributing instruments to band students at 3:45 p.m. in the cafeteria.
Week of September 23- 27
Grades 3 and 4 NWEA MAP Testing
Again, please remember that all third and fourth-grade students will be testing two mornings that week for math and reading.
Thursday, September 26: SCHOOL PICTURE DAY
Send your child to school with a big smile for the camera!
Friday, September 27: YES Community Meeting
At 2:45 p.m. our student and staff school community comes together for the first school-wide community meeting of the year. At these meetings, we focus on our YES core values of "Respect, Caring, Fairness, and Citizenship". At each meeting, our adopted school mascot "Steamer" joins us for a celebration of community, learning, and fun. At this first meeting, our students will compete in a friendly game of "Y.E.S. Jeopardy"!
October 2, 2019: Walking School Bus!
October 2nd is International Walk to School Day, and to celebrate at YES we will be having a Walking School Bus. We will assemble at Royal River Park (the parking lot near the Historical Society) at 7:55 to depart at 8:00. We will walk on the sidewalks up Elm Street to the intersection with Main Street, cross over Main Street, and continue up West Elm to the walker's path.
Please feel free to join up with us anywhere along the route!
Parents and siblings are encouraged to attend. Please ensure that your child has plans to get home independently since there will be no Walking Bus in the afternoon, however, regular bus lines will be running in the morning and afternoon.
We look forward to seeing you!
YES Walking School Bus, Wednesday, October 2nd, beginning at Royal River Park at 7:55 AM.
OTHER IMPORTANT INFORMATION
Math Overview- Discovery Math and Games
At our Open House Rachel Clark, our Lead Math Teacher in grades K-4 has historically provided paper copies of our mathematics instructional philosophy/programming, Discovery Math overview and the importance of math games as researched by the National Council of Teachers of Mathematics. Going forward we are sending this information home electronically. Please give each of these links a thorough read and reach out Mrs. Clark at rachel_clark@yarmouthschools.org if you have any questions about our math program and all the exciting learning in store for your child this year.
Messages to Students
If you need to get a message to your child during the school day please contact Danielle Carter or Lisa Bianchini in the main office and they will deliver the message. We certainly appreciate this to occur only when it is absolutely necessary. If there is an emergency or social-emotional concern please ask to speak with Laura Spellman, our school counselor, or myself. As you can understand, it is disruptive to learning if parents call and ask to speak with their child on the phone during the day. We appreciate your support with this.
School Counselor News
My name is Laura Spellman and I am the school counselor at this amazing school. I am excited for the start of a new school year and the new name of the class your kids will have weekly. What use to be guidance class is now called Social/Emotional Learning ( SEL) which more accurately reflects the work I am doing around self- awareness, self-control and interpersonal skills. You will be receiving monthly updates on the topics covered in SEL to help facilitate conversations with your child on their learning. Along with SEL class I also have a variety of groups and meet with students on an individual basis. If you have any questions or would like to meet please call me at 846-3391 or email me at laura_spellman@yarmouthschools.org
Warmly, Laura Spellman
Merrill Memorial Library News
What's Happening at Merrill Memorial Library:
Got Science? Program: come to four sessions of hands-on experiments involving circuits and robots. Due to space and materials needs, registration is required. Visit the library or call 846-4763 to register your student. Dates: Tuesdays, September 24, October 8, 15, &22, 3:45-4:45.
MINECRAFT Club Update: Minecraft Club will be starting up again in October after the Got Science Program. It will run on Tuesdays from 3:45-4:45 to allow the bus to drop off. This year, we will be using a lottery to select Club members as interest was higher than our space can comfortably accommodate. Look for a link to a Google Form in early October to sign up your child for the lottery.
Questions, please contact Youth Services Librarian Jill O'Connor at joconnor@yarmouthlibrary.org
Yarmouth Education Foundation News
The 2019-2020 school year is off to a great start for the Yarmouth Education Foundation! YEF is a nonprofit organization made up of community volunteers. We raise money to fund innovative projects at all four Yarmouth schools, impacting students and educators K-12. We like to think innovative and think big! We've funded more than $300,000 in grants in recent years from robotics to dancing lessons to weather stations to mindfulness classes and beyond. Educators and students come up with the ideas and apply for grant money. We like to keep our fundraising simple, and our biggest fundraiser of the year is just around the corner. Join us on Saturday 10-19-19 for our 9th Annual Blue Jean Ball. It will be held at AMVETS on North Road from 6:30-10:30. Food by Binga's, dancing by Yarmouth bands The Loose Threads & Fight At The Family Picnic, plus a raffle and much more. Tickets will be on sale soon at yarmoutheducationfoundation.org, and this event will sell out, so stay tuned! To learn more about YEF, please follow us on Facebook, Instagram, and Twitter. Our website is a great resource as well.
Volunteer Registration 2019-20
YES - Volunteer Registration Form
We appreciate all the help that so many of you are able to provide YES as a volunteer. Please remember that all volunteers MUST complete a form for the current 2019-2020 school year. Even if you have volunteered in the past the form must be completed again. Please complete a separate form for each student in your family. If you have any questions about this process please feel free to contact Justine Carlisle, Director of Yarmouth Partners in Education at justine_carlisle@yarmouthschools.org.
I hope that your child has had a positive first week of school and is excited for the year ahead. As always, if we can help in any way please do not hesitate to reach out to us. Thank you for your continued collaboration and support!
Best,
Ryan Gleason, YES Principal